Abstract Following the conclusion of the US "double-reverse" ruling on May 17th, China's "double-reverse" case in the field of polysilicon has begun. On July 17, many people in the polysilicon industry confirmed to reporters that China...
Following the preliminary ruling of the US "double opposition" on May 17, China's "double opposition" case in the field of polysilicon has begun.
On July 17, a number of polysilicon industry sources confirmed to reporters that the Chinese Ministry of Commerce has confirmed the launch of a "double-reverse" case against the United States in the field of polysilicon and initiated anti-dumping investigations against South Korea. "Enterprises have been required to submit more complete complaint materials. ".
In this polysilicon double-reverse investigation, several domestic polysilicon companies submitted their applications to the Ministry of Commerce in March, and have been supplementing materials since April. These companies are: GCL-Poly, LDK, and new energy. The complaint received a positive response from the Ministry of Commerce.
In 2011, China imported a total of 64,600 tons of polysilicon, a year-on-year increase of 36.00%, calculated from the average retail price and long unit price of about 40 US dollars / kg, involving an import value of 2.59 billion US dollars. Among them, imports of polysilicon from the United States and South Korea accounted for 60%.
Affected by low-cost imports of polysilicon in the United States, South Korea and other countries, since September 2011, 80% of domestic Chinese companies have stopped production, affecting more than 50 billion investment in the entire industry, resulting in more than 5,000 unemployed.
Different investigations on the United States and Korea
The China Photovoltaic Industry Alliance predicts that China's domestic polysilicon production will be about 100,000 tons in 2012, and the import volume will be around 80,000 tons. The import volume of 80,000 tons is calculated based on the current retail price of 23-28 US dollars / kg and the long price of 32-37 US dollars / kg. The total import value also exceeds 2 billion US dollars.
A polysilicon central enterprise executive told reporters that in addition to the three major factories, more than 10 small and medium-sized polysilicon enterprises also participated in the investigation. Different methods of investigating the US and South Korea polysilicon were adopted. "The US is involved in government subsidies, so it was known last week; South Korea is a corporate act, so it only deals with anti-dumping."
Yonhap News Agency said on July 16 that the South Korean Embassy in China said on the same day that it had received a notice from the Chinese Ministry of Commerce that China had started an anti-dumping investigation against polysilicon produced in Korea.
In the first five months of this year, China imported a total of 34,000 tons of polysilicon, a record high, and the cumulative import volume reached 960 million US dollars.
In May, imports from the United States 3269.37 tons, an increase of 28.47%, accounting for 41.40%; imports from Germany 2053.53 tons, an increase of 69.04%, accounting for 26.01%; imports from South Korea 1752.74 tons, a month-on-month increase of 15.05% The proportion is 22.20%.
"The total import volume from the United States in May was about 44% of the total import ratio, and the proportion of South Korea was 24%. The proportion is higher than last year." The aforementioned PV company executives said that Chinese companies are not excluded. After the double-reverse appeal, US and South Korean companies stepped up their dumping to China. "Their prices are generally in the $24/kg range, and this price, including OCI, cannot be done."
The executive said frankly that South Korea's OCI, the United States Hemlock-based international polysilicon giants are mainly for China, and South Korea's polysilicon companies 70% of polysilicon products are shipped to China, "like OCI's almost all GT Solar equipment, the cost should be At $30/kg or more."
With the advantage of geographical advantage, Korean manufacturers' exports to China came to the fore, and the sale below the cost price also overwhelmed them. Xiongjin Energy, which specializes in polysilicon and wafer business, suffered a loss of 5.9 billion won in the third quarter of 2011. Nomura Holdings believes that OCI's polysilicon business will be extended to the full year of 2013. Many industry insiders pointed out that the reason why Korean manufacturers export polysilicon at a low price depends on the state's subsidy support and other profit-making business support of the group, so as to gain absolute advantage in the future market.
The above-mentioned polysilicon executives revealed that the evidence held by domestic PV companies shows that the relationship between a Korean manufacturer and a domestic trading company is unusual. The trading company imports silicon materials at an ultra-low price of US$16/kg, which is about 30% lower than the normal price. The domestic trading company will hand over the silicon material to the silicon wafer manufacturer for processing, and then sell it at a low price. "The wafer VAT is 17%, the export tax rebate is 13%, and only 4% tariff is required." Some domestic PV companies suspect that this trading company is an affiliate of Korean manufacturers, intending to make the price base small and the tariffs are small, so its silicon wafers are competitively competitive in the international market.
Redemption of polysilicon manufacturers
Due to the surplus of photovoltaic market, the United States EvergreenSolar, SpectraWatt, Solyndra and Germany's Solon, So-larMillennium, Ralos New Energies AG, Q-Cells and other PV companies have closed down, the international polysilicon giants have increased sales to China.
Wang Heng, a polysilicon technology expert and general manager of Chengdu Henghai Chemical Technology Service Co., Ltd., told reporters that at present, only the domestic Polysilicon enterprises are able to fully produce GCL, Reineng and Daquan.
"Now the spot price of polysilicon is 25-26 US dollars / kg. We have repeatedly told downstream companies that even if the polysilicon double-reaction of the United States and South Korea is established, the price will not change much, but the supply side has changed." The executive said. Norwegian REC in the world's seven major factories, Germany's WACKER can be exported to China, which can meet the needs of domestic downstream enterprises. In May, German imports increased by 69.4%.
On the other hand, the US Department of Commerce will make a double-reverse final ruling in early October, and the US International Trade Commission is also expected to make a positive final ruling in late November this year. "China has initiated a polysilicon double-reverse investigation against the United States, and the US should also carefully consider it when making final rulings." Digital polysilicon companies hold this unanimous view, which will benefit photovoltaic cells and component companies.
Before the double-reverse case, the investigation of trade barriers initiated by the Chinese Ministry of Commerce on the US renewable energy support policies and subsidy measures has come to an end. The survey, which began in November 2011, includes products, equipment, and components related to the use of renewable energy such as wind, solar, and hydropower, including the "Resident Energy Production Encouragement Program in Washington, DC, USA".
It is worth noting that after Solar World successfully launched a PV double-reaction survey on China in the United States, Solar World is working on several similar PV companies in Europe to propose similar lawsuits. After China filed a double-anti-poly case for polysilicon, the import of polysilicon from Europe will increase significantly, which will enable Chinese companies to pass the European double-return, which accounts for 80% of the export market of Chinese PV companies.
The aforementioned executives stressed that GCL-Poly, LDK, and Rineng's current polysilicon costs are around US$25/kg, which can basically compete with foreign giants. However, today's Korean companies are not only dumping at low prices on the premise of poor market conditions. And still expand production as planned, "Domestic companies are most worried about the low price dumping of foreign companies is an abnormal competition."
Plastic coated composite pipe is on the inner wall of the steel melts to dissolve a thickness of 0.5 ~ 1.0 mm layer of polyethylene (PE) resin, ethylene - acrylic acid copolymer (EAA), epoxy (EP) powder, non-toxic polypropylene (PP) or non-toxic polyvinyl chloride (PVC) and other organic matter and constitute a steel-plastic composite pipe material.
Advantage
Plastic coated composite steel pipe is protected by plastic coating both inside and outside. In the middle, it is used to strengthen the composite structure of welded steel pipe or seamless pressure steel pipe, which overcomes the defects of easy rust, corrosion, high pollution, low strength and deformation of plastic pipe, and integrates the common advantages of steel pipe and plastic products. it not only has steel tube high strength, easy connection, water resistance and other advantages, also overcomes the steel easy to corrosion, under the influence of water pollution, scale and strength of plastic pipe is not high, poor fire performance shortcomings, design life of 50 years.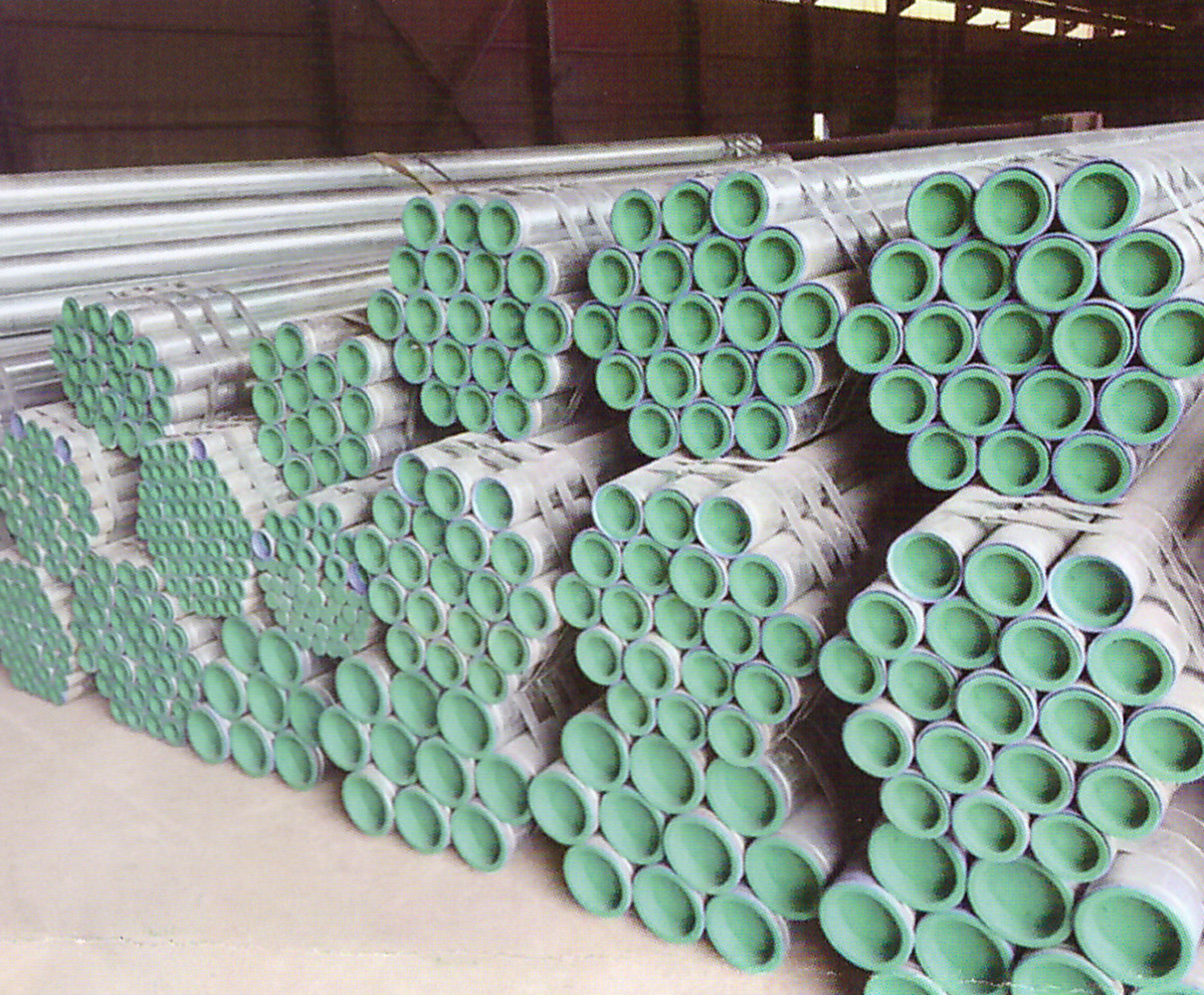 Packaging Details
Plastic caps on both ends, Steel bundle, Woven bag or acc. to customers' request.
Delivery Time
15 days after receiving deposit
If you have any questions, please contact with us directly and welcome you can visit our Factory.
Plastic Coated Composite Pipe
Black Iron Pipe,Plastic Coated Composite Pipe,Plastic Coated Gas Pipe,Fbe Coated Pipe
HEBEI CHENGYUAN PIPE INDUSTRY GROUP CO.,LTD , http://www.hbcytube.com