Model NO.:
B0036, B0036C, B0036D
Vacuum Style:
Non Vacuum,Central Vacuum,Self Vacuum
Variable Speed:
0~12, 000rpm
Transport Package:
Standard Carton Package
Specification:
CE, SGS, ISO
| | | | | | |
| --- | --- | --- | --- | --- | --- |
| Model No. | Pad Size | Free Speed | Weight | Vacuum Style | Orbit |
| B0036 | 6inch (150mm) | 12,000rpm | 0.7kg | Non Vacuum | 2.5mm or 5mm |
| B0036C | 6inch (150mm) | 12,000rpm | 0.72kg | Central Vacuum | 2.5mm or 5mm |
| B0036D | 6inch (150mm) | 12,000rpm | 1.4kg | Self Vacuum | 2.5mm or 5mm |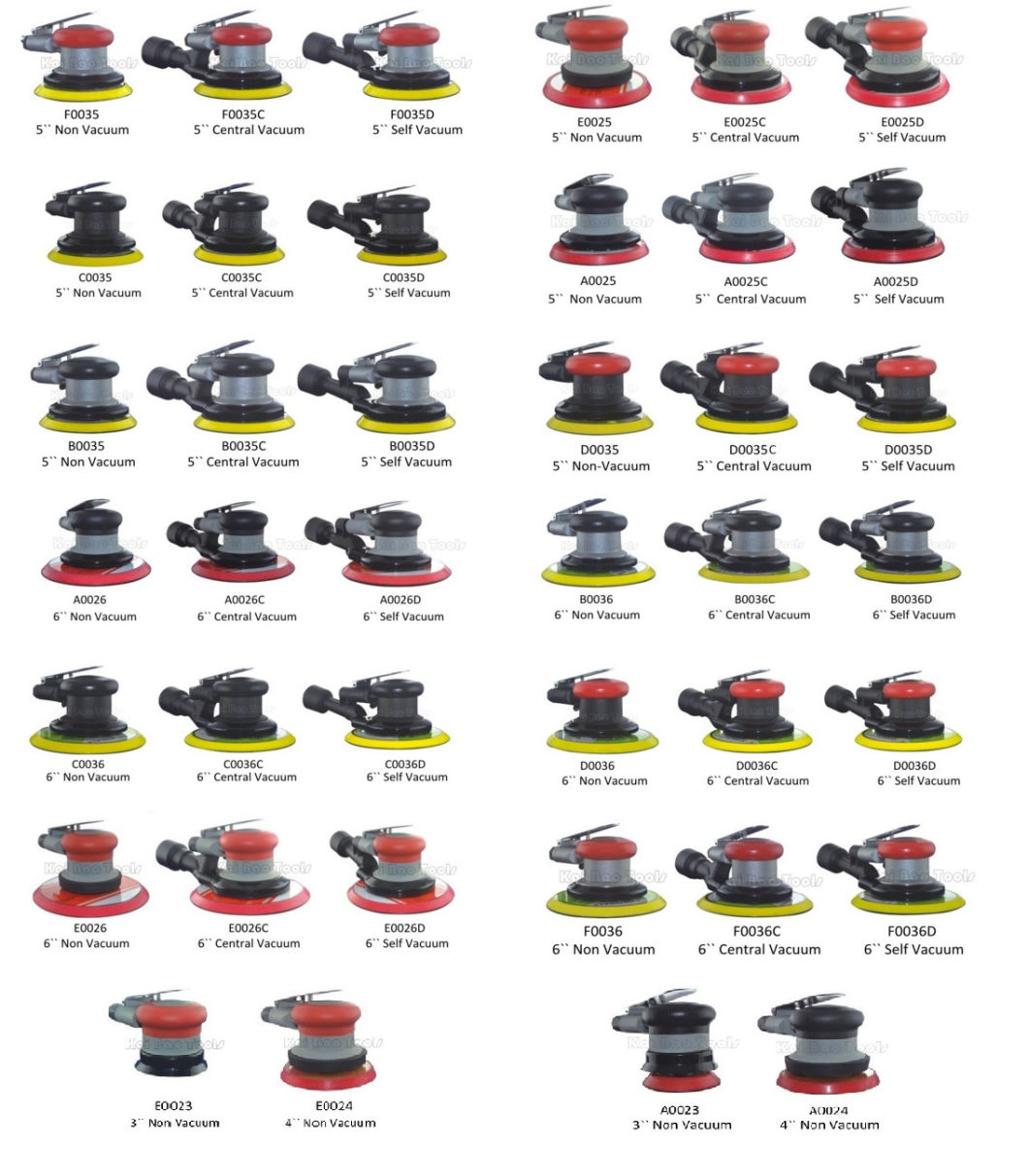 We are a leading manufacturer of pneumatic air sander in China and these OEM air sanders can be made into common quality,medium quality and superior quality according to customers' demands or target prices.
Plus,LOGO can be put on the sanders as long as there is enough order quantity.
"SUPER" is our own registered brand which mainly aims at high-end market and is very popular in the industry of sanding&polishing&finishing all over the world because of their high quality,excellent performance and long life which are almost the same as that of 3M sander and MIRKA sander but we provide far more competitive price and better aftersales service to our dealers and users.
Details of B0036,B0036C and B0036D
1.Applicable for polishing  the surface of metal,furniture,alloy,glass fiber reinforced plastics(fiberglass),laptop,cell phone,automobile,plane,plastic,steamer etc;
2.Light weight , Low vibration and ergonomic design enable easy control with one hand;
3.Stable,smooth,durable and environmental;
4.Side variable speed control allows users to easily adjust speed for different applications;
5.OEM or ODM is available in our factory;
6.Various sanding pad & paper (Vinyl or Velcro type) are availabe as per specific demand.
 
Warm tips:
*Add 2~3 drops of air lube oil to the air sander before&after using.
*Rotate the air sander with nothing a few seconds after adding air lube oil
*Cheak before using.Add lube oil to lubricate and clean dust.
*If find any part broken or missing,do not use it until it is fixed.
*Assembling sanding pad and sandpaper when switch is on is prohibited.
*Do not overload the sander and rotate it without sanding pad at high speed and it will be durable.
We are a leading manufacturer&supplier of air tools and related abraisves in China.
We supply
1) 1``~ 6``Air Random Orbital Sander/Polisher(3M & MIRKA Quality);
2) 2``~ 9``Air Angle Grinder (FUJI Quality);
3) Air Die Grinder (FUJI Quality);
4) Air Micro Grinder (Pencil Grinder);
5) Air Screwdriver;
6) Air Wrench;
7)Â Air Belt Sander;
8)Â Air Drawing Machine;
9)Â Air File;
10) Sanding Pad&Paper/Grinding Wheel/Sanding Sponge;
11) Air Squeezer;
12) Air Pull Setter;
13) Air Drill;
14) Air Spray Gun;
15) Squeeze Riveter(For Precision Machinery Industry such as Aviation etc.)
And so on.
For more details,pls do not hesitate to contact us : )
 
Advantages of commercial led grow lights.
Energy saving. LED grow lamp is efficient light only consume less energy put output powerful light. Environment friendly and saving bill.
Long lifespam. LED is durable and with long life 50,000 hours. Which also ensure you lower maintenance cost. Traditional HPS MH grow lights is very easy to fail and almost need to change each year.
Better for plants growth. LED grow lights are usually with full spectrum, Plants can use nearly all the light emitted from led grow lights. But usually only 35% of light generated by MH HPS is useful for plants growth.
Low heat output. LED grow lights produce very little heat, and they usually with fans or efficient dissipation heat sink. Ensure better growing environment to plants. Traditional lights usually delivery lots of heat. It's very hard for plants especially in summer.
Available led grow lights.
C Series LED Grow Light: cob 600w 1200w 2000w 3000W LED Grow Light, with advanced cob technology, focusing lighting, ensure high ppfd. And this series led grow lights are with veg bloom switches, you could change spectrum from seeding to flowering. And they are daisy chained. easy to use and install.
G series led Grow Light : G110w G220w led grow light. This series led grow lights are with compact shape, suitable for small space. But they are powerful with samsung leds and reflector. and it's waterproof.
K series led grow light: K1000 K2000 K4000 led grow light, with dimmer. Freely to adjust lighting intensity according plants needs. when seedling, turn dowm it, when flowering, turn up. And down at night, up at noon. Very convenient. The K4000 with a specially design, it can be fold up. easy to carry and install.
L series led grow light: 700w led grow light is a decent light, foldable and dimmable and you could add controller. 700w powerful led grow light is great for weed. PPE 2.8-3.0 μmol/J. Spider grow light design can delivery uniform light, great for weed growing.
M series led grow light: 240w 320w 400w 600W LED Grow Light. This series led grow light is like L700 with dimmer and foldable. They also with spider design. but it with external driver. So you could put driver out of tent, ensure lower heat and easy to control.
If you want to see more, please contact us for details.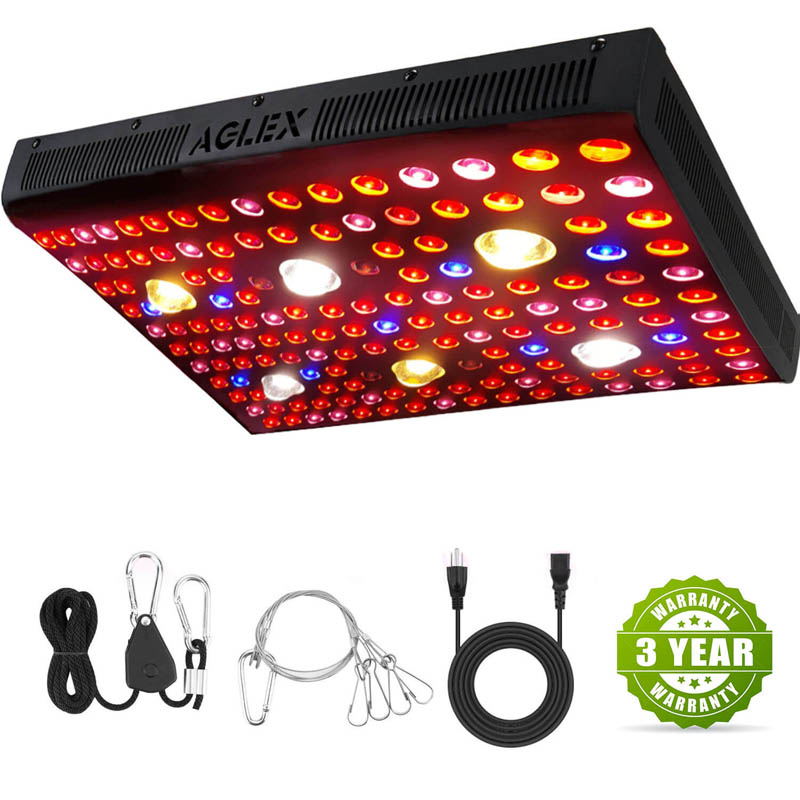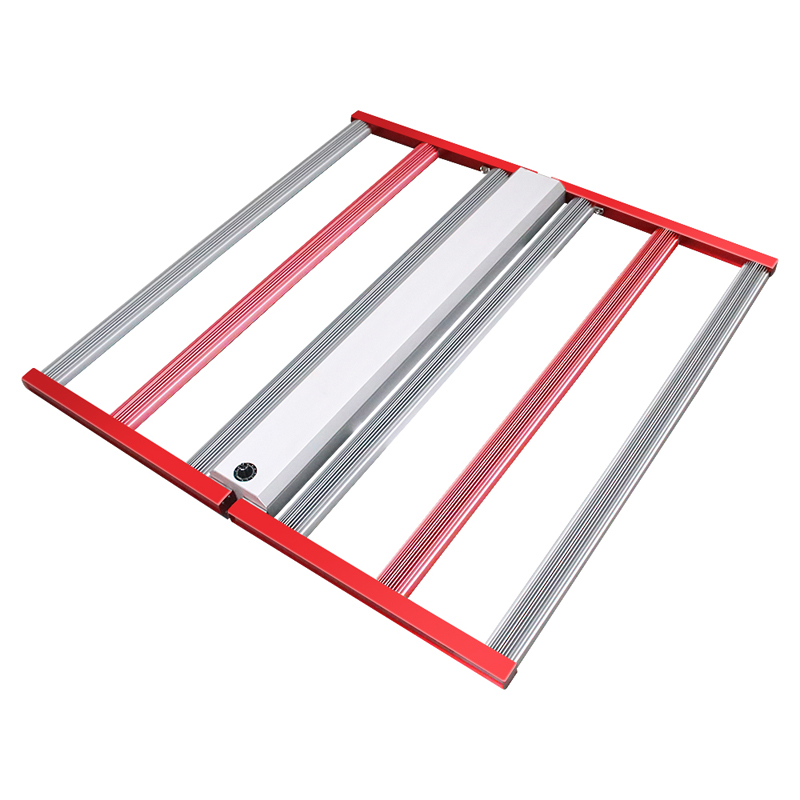 High Intensity Grow Light, Pro LED Grow Light, Industrial Grow Light, LED Horticulture Grow Light
Shenzhen Ameri Technology Co., Ltd. , https://www.aglexz.com